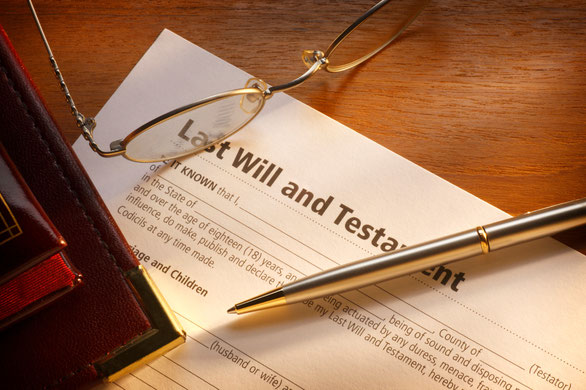 Estate planning is a dynamic process involving people, property, and your intentions for the future of both. A complete estate plan incorporates numerous considerations and usually includes a collection of documents that directs your affairs after your death and if you become unable to manage your affairs while you are still alive.
Your estate plan should address:
Who will manage your assets during your lifetime if you become unable to manage them yourself and how they are to manage those assets, as well as the suitability and timing for distributing certain assets during your lifetime

Who will manage and distribute your money and assets after your death

Who will manage your personal care and health care decisions during your lifetime if you become unable to manage them yourself, including instructions about life-sustaining treatment, organ donation, and funeral directions
The most commonly known component of estate planning is a Will (or Last Will and Testament), but a complete estate plan includes additional items, such as a medical power of attorney (advance health care directive or living will), a financial power of attorney (general durable power of attorney), a living revocable trust, property transfers, and proper beneficiary designations.  Without these additional items, your goals for your property and loved ones may not be met. And, the lack of a complete plan often causes great delay and expense to your heirs.
A living trust is a written document that contains instructions about how your money and assets should be handled after you have died.  In this respect, it is much like a will. A living trust also provides instruction about management of your assets if you become incapacitated, unable to manage your own affairs, or simply choose not to do so anymore. Living trusts are revocable and amendable by the person(s) who created the trust.
Most people manage their trust while they are alive—they are the initial trustees of the trust. This allows them to control any money or property in the trust, including what goes into the trust and what comes out of the trust. When the initial trustee dies or becomes incapacitated, a named successor trustee takes up the management of the trust. The successor trustee then follows the instructions of the trust. Those instructions include how to use trust assets while you are still alive and how to distribute those assets after you have passed away. This change in management of the trust, from you to your successor trustee, all takes place privately and without having to go to probate court.
Once your living trust has been created and signed, certain assets should be transferred to the trust. This is known as funding the trust. This important step enables your beneficiaries to avoid probate court proceedings.
By way of example, your bank can set up a bank account for your trust, just as it did for you as an individual. Money deposited in the trust's bank account is held by the trust. You, as the trust's initial trustee, have full control of the bank account and its funds. You can use those bank account funds as you see fit. For real estate to be transferred into a trust, new deeds are prepared and filed with the county.  
A living trust can hold both separate and community property, so planning for the management and distribution of assets in one joint trust may be more convenient for spouses and registered domestic partners.
Many people choose to hold assets in a living trust to ensure that those assets will be managed and distributed to beneficiaries without court supervision and to save their heirs time and money. The money and time savings are substantial in most cases.  Also, assets held in a trust are not subject to probate, so their value does not become a matter of public record; neither do the identities of your trust's beneficiaries.
A will (or last will and testament) is a document that contains instructions about how you want your money and property divided up and distributed to your heirs. You can revoke or amend a will while you are still alive. A will does not manage or transfer any property or money during your lifetime. It comes into effect only after you have died.
Before a will's instructions can be followed, it must be submitted to the probate court. The court then supervises the implementation of the will's instructions. This process is often is referred to simply as "probate." While probate may seem straightforward, it can take many months or even years for everything to be administered.
The probate process has advantages and disadvantages. On the one hand, probate courts use defined rules to resolve disputes when it comes to the distribution of assets, and the court reviews the executor's work in handling your estate.
On the other hand, probate results in your estate plan and assets becoming a matter of public record. Also, administering an estate through probate almost always involves a larger cost than similar procedures enacted under a living trust. The statutory fee schedule associated with the probate process determines lawyer's fees and executor's commissions. Lastly, probate tends to take much longer than does administering a trust.